Roman Roads Heritage Cooperation Network - Iter Romanum
"ITER ROMANUM: ​​Heritage and Cities" is a cooperation project within the sphere of the European cultural, educational and tourism heritage which aims to promote and publicize the Roman roads and sites making up the Network.
Fully aware of the importance of the Roman Empire in the history of Europe, the Cooperation Network of Towns on the Ruta de la Plata, an association furthering the Ruta Vía de La Plata (Spain) tourism brand, has taken the initiative to sponsor an association to promote a major European cultural route. This association has taken the form of a network to develop a European cultural tourism offer based on Roman heritage.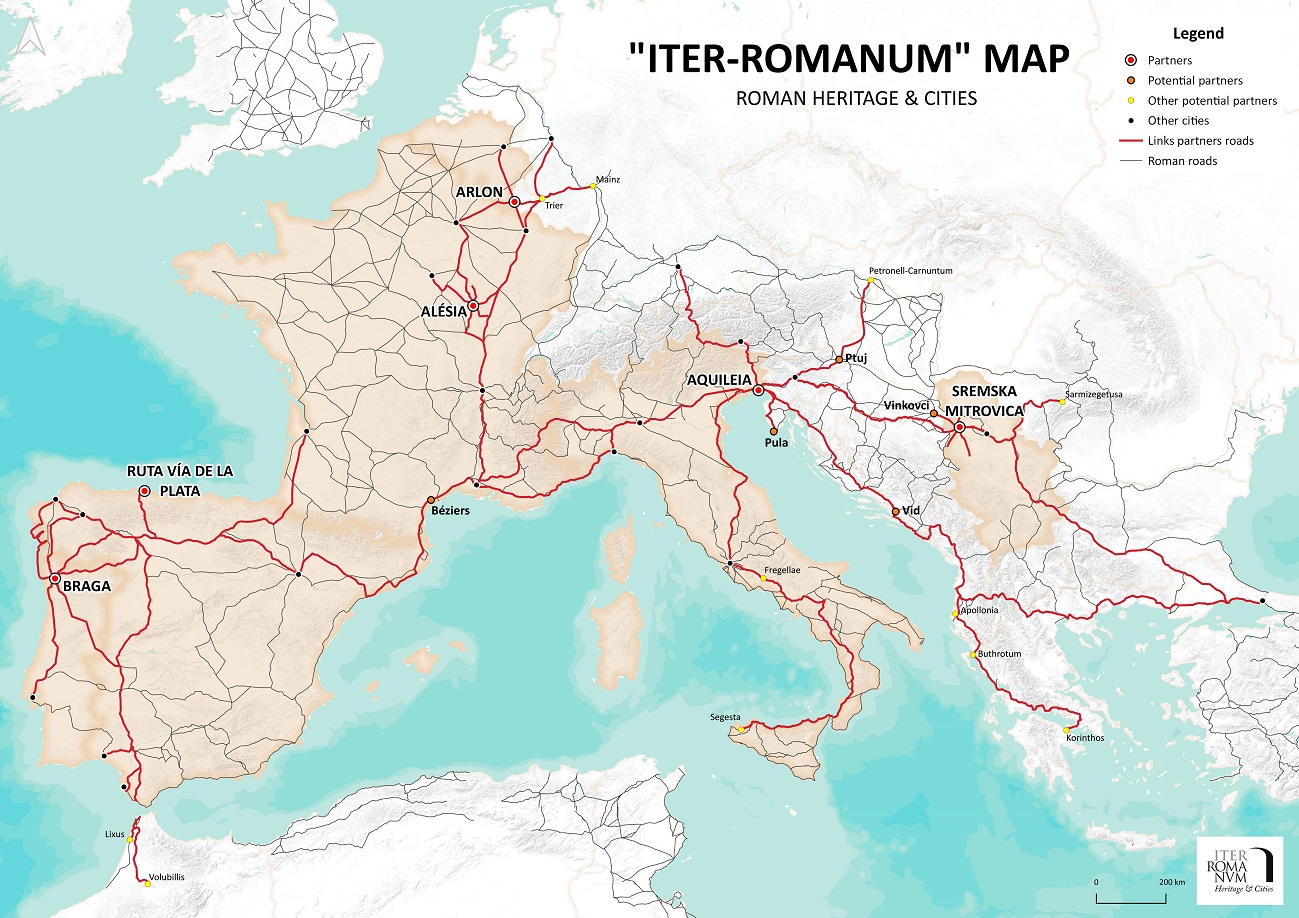 The association was set up on 22 October 2017 in Luxembourg,
where the minutes of the founding meeting were signed. It was registered as an association in the Spanish National Registry on 16 January 2019.
The association has the following objectives, among others:
Publicize and promote Roman culture and heritage.

Promote relations with the Council of Europe and European institutions.

Promote dialogue and the exchange of good practices with other European cultural itineraries.

Further the collaboration between public administrations and private organizations to promote joint actions related to this route.

Promote and launch educational activities about the Roman roads and sites belonging to the route which are aimed at young people in order to strengthen their knowledge of their roots and consolidate European identity.

Coordinate those cultural and tourism activities that take place in the areas where Roman roads and sites are found in terms of sustainable development.

Exchange knowledge and information on the management of archaeological sites.

Promote connections with cultural and creative industries.

The ultimate goal of this project is to constitute a large network of sites to jointly organize tourism and cultural activity through their communication routes and Roman heritage.
The network's founding partners include the city of Braga (Portugal), the Cooperation Network of Cities on the Via de la Plata Route (Spain), the MuséoParc de Alésia (France), the Fondazione Aquileia (Italy), the city of Arlon (Belgium) and the Institute for the Protection of Cultural Monuments in Sremska Mitrovica (Serbia).
 ACTIVITY REPORTS
Composition of the Governing Board
Iter Romanum
President

Fondazione Aquileia (Italy)
Dr. CRISTIANO TIUSSI
Director
Vice-president

MuséoParc d'Alesia (France)
Mr. LAURENT BOURDEREAU
Managing Director
Secretary and Treasure

Cooperation Network of Cities on the Ruta de la Plata (Spain)
Mr. RAFAEL PACHECO RUBIO
President
Board member

Institute for protection of Cultural Monuments, Sremska Mitrovica (Serbia)
Ms. BILJANA LUCIC LUČIĆ
Archaeologist
Board member

City of Braga (Portugal)
Dr.ª ANA FERREIRA
Mayor's Head of Cabinet
Board member

City of Arlon (Bélgique)
Mr. DAVID COLLING
Director-Curator Arqueological Museum